I went to visit my Nana for her 105th birthday party and went up through the U.P.
(The Upper Peninsula of Michigan)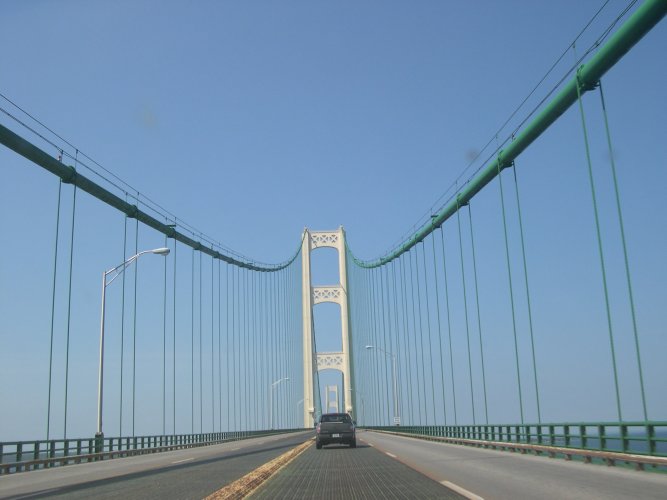 You get to the U.P. by crossing the Mackinac Bridge (pronounced: Mack-a-naw). It's a real big bridge, about 5 miles long. The toll is $2.50 one way. I took this photo while driving across, holding the camera out the window of my Geo Metro. They say a Yugo was blown off the bridge during a particularly bad windstorm in 1989. It wasn't too windy this day and my car's almost bigger than a Yugo, so I wasn't too worried. Those guardrails don't look very big though, and it's a long way down to the Straits of Mackinac.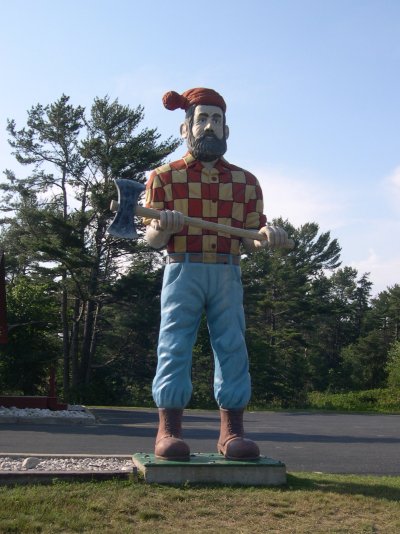 Passing through Schoolcraft County in front of the Chamber of Commerce, I spotted a Muffler Man. This is the second Muffler Man I've photographed. My first was in Rapid City, South Dakota. This guy is not listed in the list of Muffler Men web page. Maybe I'll submit it for verification.
"Remember to do your part; report all sightings of Muffler Men in your area."
Wait a minute. Late breaking news. This isn't a Muffler Man. It's Paul Bunyan!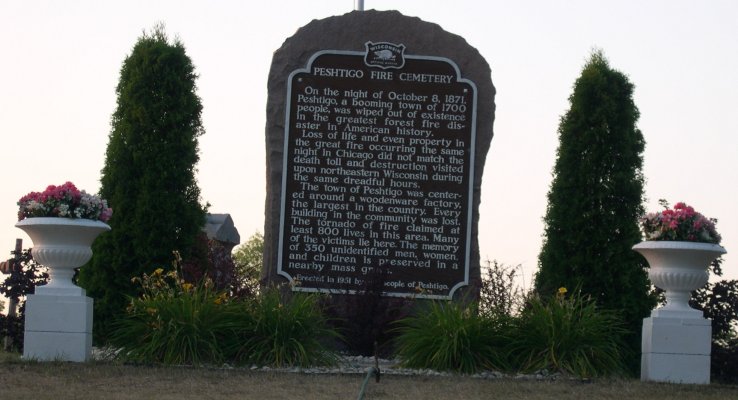 Heading west, I left Michigan and entered Wisconsin. I passed through Peshtigo. Peshtigo, Wisconsin is famous (or not so famous) for having a fire the same day as the Great Chicago Fire. More people died in Peshtigo than in Chicago.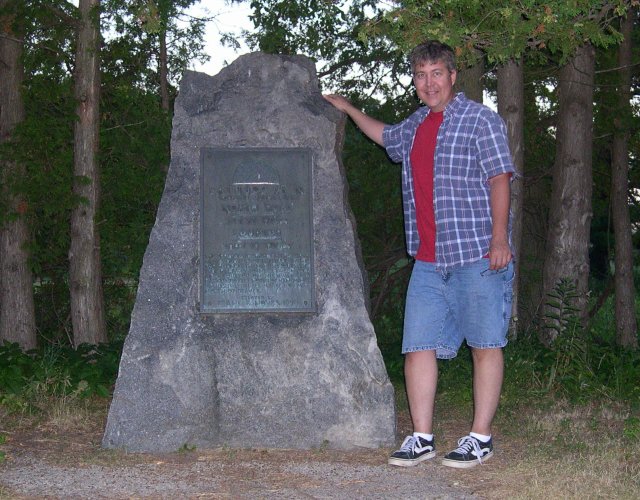 South of Peshtigo, I crossed the 45th Parallel for the second time that day. I went up past 45° in the lower peninsula earlier in the day. Now I passed 45° heading south.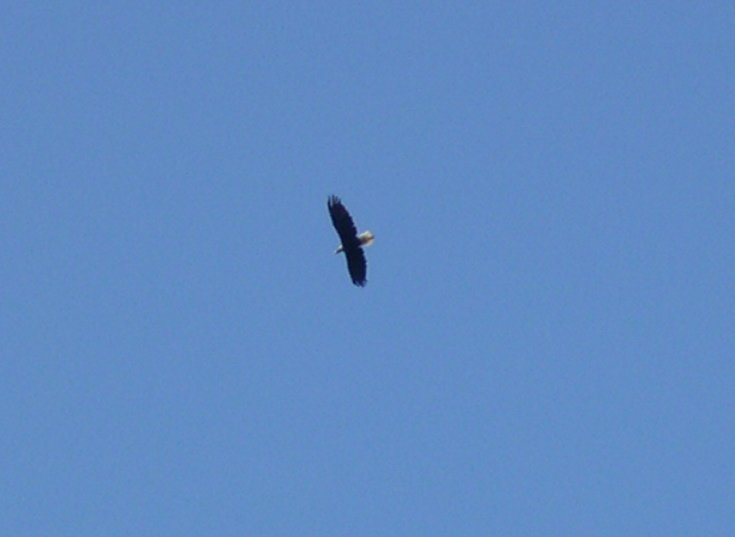 The next day I crossed Wisconsin. Somewhere in the middle of the state, I saw a Bald Eagle soaring over head.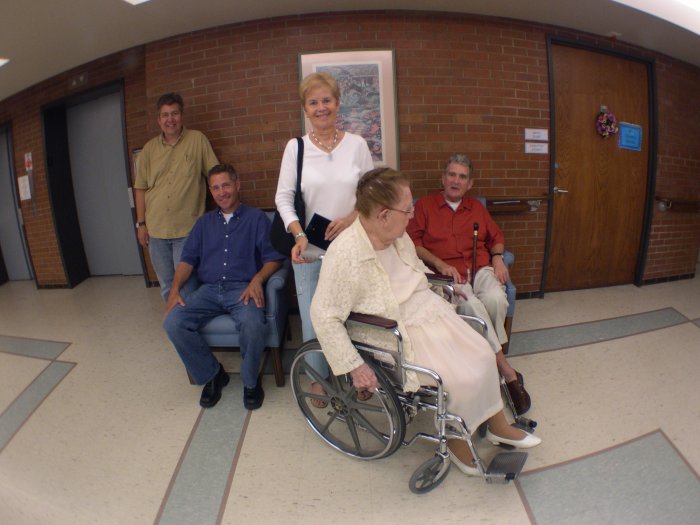 I made it to St. Paul and saw Nana. I dropped off my car at the airport. Picked up Mom and Dad. Took them to the hotel. Brother Marc came in the next day and got my car from the airport parking garage (gold ramp level 3 row k) and drove to the hotel. The next day we had a party for Nana. The next day Marc took Mom and Pop back to the airport and I started the drive home.
While in Roseville (a suburb of St. Paul) Mom and I went into the very first Target store ever. I didn't take a picture. It looks like all the rest.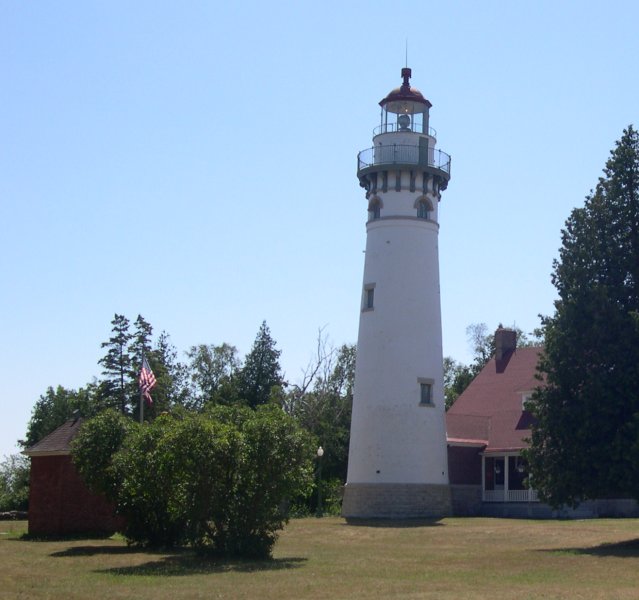 I camped out at J.W. Wells State Park, right on the shores of Green Bay in Lake Michigan. The weather was perfect. In the morning I went east a few hours to Seul Choix Point and visited the Seul Choix Point Light Station. Seul Choix is pronounced "sis-shwa" which makes no sense at all. It's French and translates into "only choice." Seul Choix Point is right up at the top of Lake Michigan.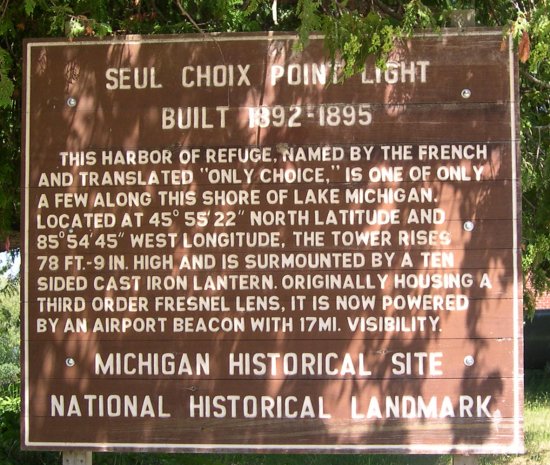 This lighthouse use to have a third order Fresnel lens, but it's missing. There is a reward offered for its safe return. "Third order" refers to the size of the lens. The biggest lighthouses had first order lenses. No lighthouses on the great lakes had a first order lens. These were used out on the oceans shores. The smallest lighthouse lens was a sixth order Fresnel. There were only a few second order lenses on the great lakes. So, third order seems to be the more common lens for big lighthouses on the lakes. I've visited several lighthouses now. I guess I better start keeping track of which ones I've visited.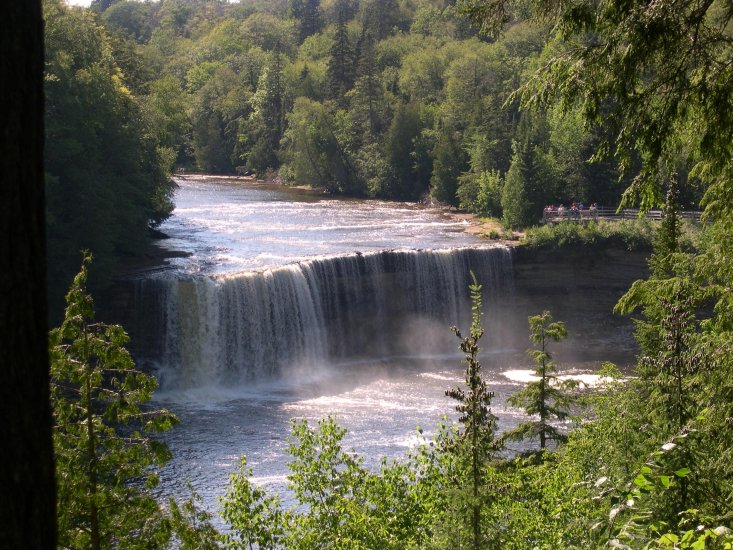 Next stop was Tahquamenon Falls State Park. Tahquamenon is pronounced "Ta-KWA-ma-non". First I went to the upper falls. Upper Tahquamenon Falls is often compared to Niagara Falls only smaller. But then I guess every waterfall is like Niagara only smaller.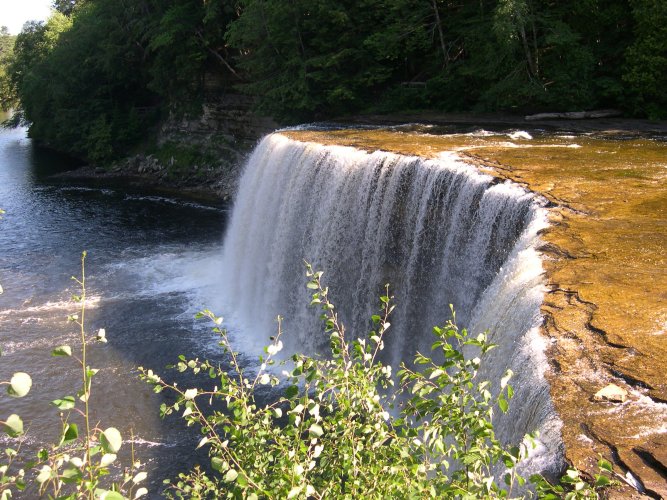 While walking back to the car, I took the long path through the woods and saw a hollow log on the ground. I flashed my camera into it to see if maybe I'd see some kind of animal.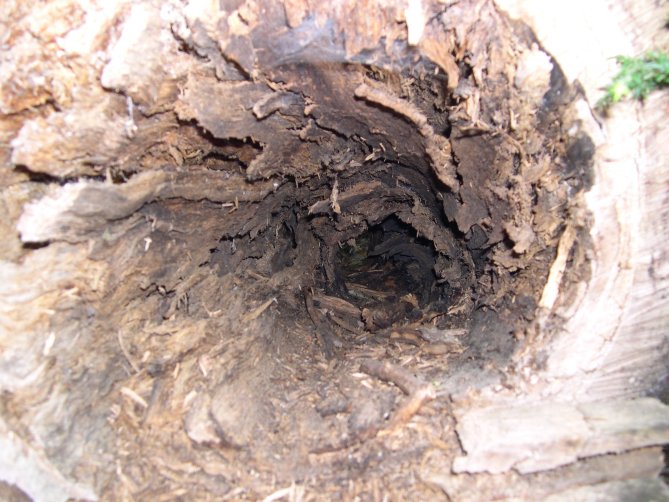 No animal, just a log.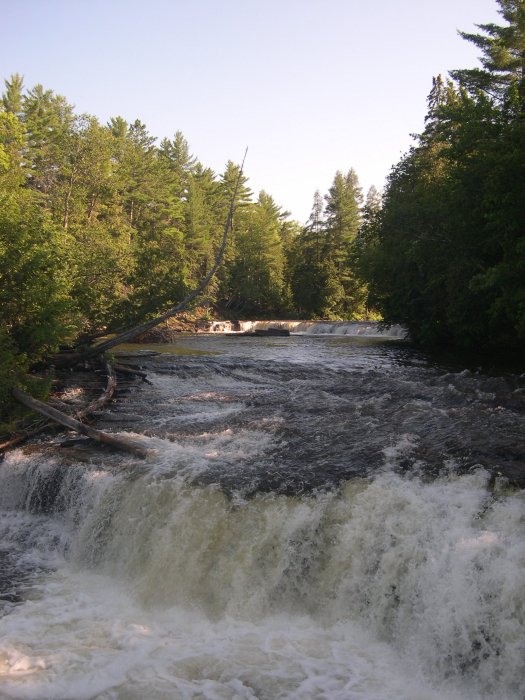 Then I traveled downstream to the lower falls. Lower Tahquamenon Falls are actually several small cascading falls around an island in the river.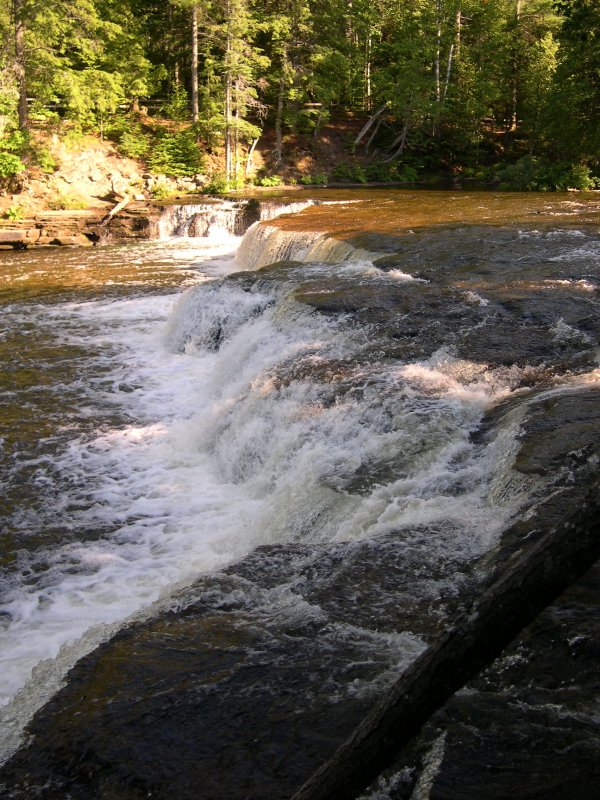 There are said to be more than 300 waterfalls in the U.P. I wonder if I'll ever see them all?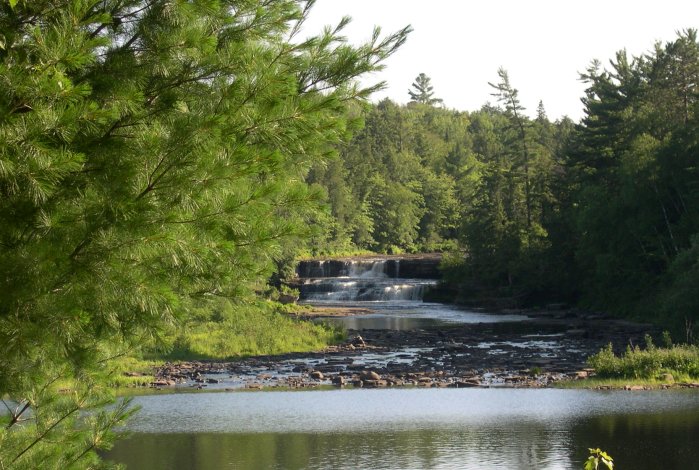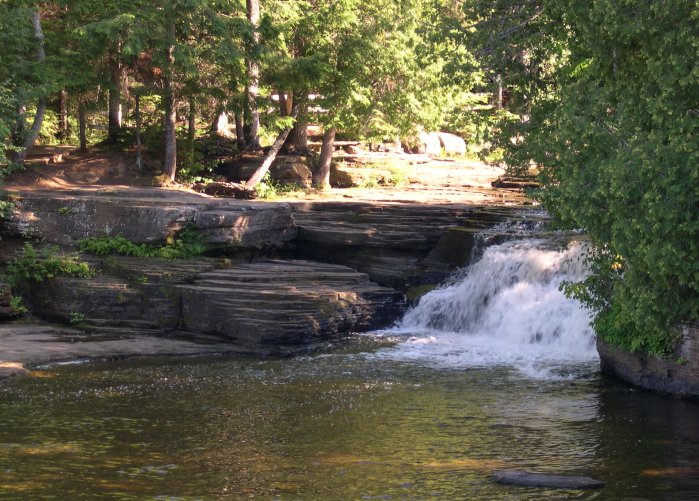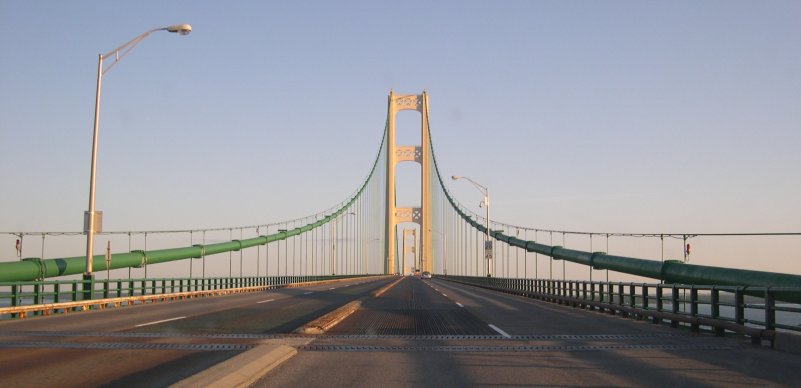 Here I am traveling south across the bridge, back to the real world. Vacation over!